It is always good to have storage as much as possible to store memories rather than missing out on crucial moments. Samsung Galaxy Note 9 is offered with two storage capacities, 512GB with 8GB RAM or 128GB with 6GB RAM. Seeing how videos and photos have exponentially increased in quality hence also size, these capacities sometimes become too less. For that, Note 9 further has support for up to 512GB microSD expansion which makes it either 640GB or 1024GB (1TB) of Max storage. In a 1TB storage device, 4500+ Movies & 180000+ pictures can be stored. So if you are looking to expand storage on your phone, here are the best microSD card options for Samsung Galaxy Note 9.
Samsung Galaxy series has been the most prominent series out there. The first Samsung Galaxy series flagship was Samsung Galaxy S announced on March 2010 and released on June 2010. Now, Samsung has brought major upgrades and turned Samsung Galaxy Series into the most selling Android phones of all time. Expanding on the normal Galaxy S, Samsung later on also introduced Note lineup which has become quite a successful phone for power users these days.
Best microSD Cards for Samsung Galaxy Note 9
Right ahead we have curated a list — in no particular order — of all the microSD card options you can buy for your Samsung Galaxy Note 9:
SanDisk Extreme PRO 400GB microSDXC UHS-I
SanDisk has always been the most competitive in the line of providing storage capacities. SanDisk is considered to have the highest storage SD card with a 1TB capacity which is coming soon. SanDisk has storage capacity ranging from 32GB to 1TB. As Samsung Galaxy Note 9 can only handle a max 512GB storage, so the SanDisk Extreme PRO 400GB with up to 170 MB/s read speed & 90 MB/s write speed is the best option to turn your phone into a storage giant
Learn more about SanDisk Extreme PRO here.
Buy SanDisk Extreme Pro 400GB microSDXC UHS-I from Amazon
SanDisk 128GB Extreme PRO microSDXC UHS-II
The Extreme Pro which is better in speed than Extreme PRO UHS-I. SanDisk Extreme PRO microSDXC UHS-II comes in a highest storage of 128GB with up to 275 MB/s read speed and 100 MB/s write speed. Those who are looking for storage can go for the above option whereas this option is out of stock but will be available soon in the online market or you can visit a local distributor. This microSDXC is around $123.99.
Learn more about SanDisk 128GB Extreme PRO here
Buy SanDisk 128GB directly from SanDisk
Lexar Professional 128GB 1800x microSD UHS-II
Those who are really interested in speed and less storage than the second best choice is Lexar 1800x 128GB microSDXC, it comes with a 270 MB/s read and 150 MB/s write speed. It is backward compatible with UHS-1 devices. It is designed for High-speed capture of HD images & extended lengths of 1080p HD, 3D, and 4K videos. It is a premium solution for smartphones and plugging this into a Samsung Galaxy Note 9 is going to boost the beast. It is also available in 64GB & 32GB.
Learn more about Lexar 1800x 128GB UHS-II here.
Buy Lexar 1800x 128GB microSDXC on Amazon
Samsung EVO Plus 512GB microSDXC
Samsung 512GB EVO Plus is the another good option for Samsung Galaxy Note 9. Those who are looking for a storage upgrade excluding reading/write then Samsung 512GB EVO Plus is the best option. As the read speed is up to 100 MB/s and writes speed up to 90 MB/s. The form factor for the Samsung 512GB EVO Plus is microSDXC where XC stands for Extended Capacity. Whereas it is Water-resistant also. Best choice for media users.
Learn more about Samsung 512GB EVO Plus here.
Buy MicroSDXC EVO Plus Memory Card w/Adapter 512GB from Samsung
These are the best microSD cards for Samsung Galaxy Note 9, depending on your need either you choose speed or storage.
Samsung EVO Select 512GB microSDXC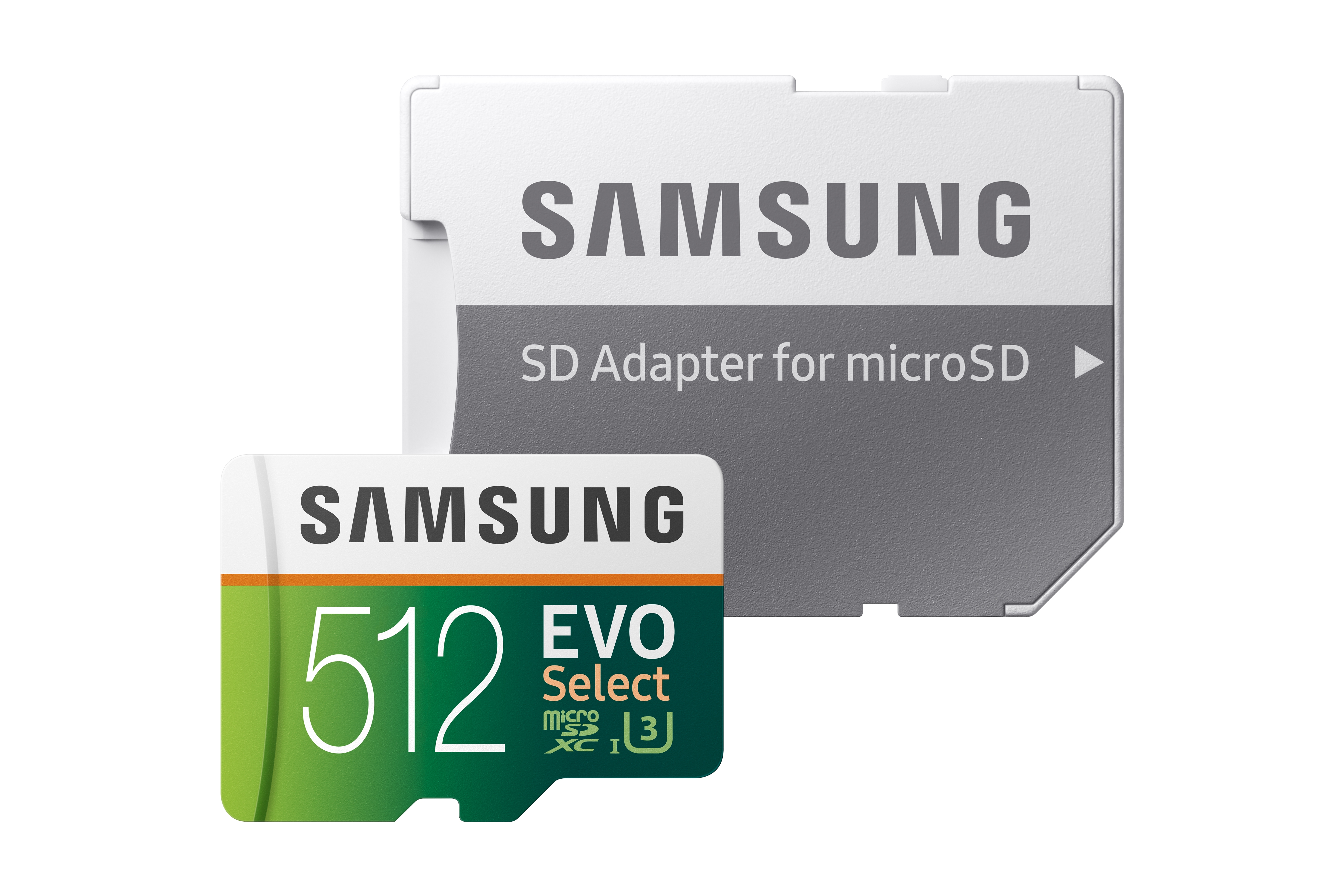 The next and last in line is the Samsung EVO Select with 512 GB capacity. The highest capacity offered by Samsung EVO Select is 512 GB with highest 100MB/s read speed and 90MB/s write speed. This is the best option for a mobile videographer so captures videos in 4K. Samsung EVO Select is available for $139.99 on Amazon.
Learn more about Samsung EVO Select here
Buy Samsung EVO Select on Amazon
Did we miss any other good options? What card are you using or would be getting? Let us know in the comments.