Steps ahead explain how P20 Pro users can enable App Drawer on their smartphones. Initially, when Emotion UI came out, Huawei introduced a very unique navigation approach. Rather than having an App Drawer to store all app shortcuts, the brand placed them straight on the homescreen hence removing any need for an app drawer. For this, there were fewer supporters rather more critics. In order to accommodate each need, EMUI was later modified to have options for each iteration. If you don't like the idea of an untidy homescreen, ahead are complete steps for enabling App Drawer on Huawei P20 Pro.
Running Android 8.1 Oreo, P20 Pro has been one of the top rated flagships to come out this year. On top of standard Android, Huawei attaches its very own skin, EMUI. Thankfully, Emotion UI offers some amazing customization options such as the one we will be explaining ahead. Stock, P20 Pro is set to not have a dedicated app drawer rather each app you install has its new shorcut displayed on one of your homescreens. Further, with the app drawer disabled, you can not remove the shortcut rather you just have the option to uninstall the app, making for very messy homescreens. Nonetheless, through our guide, you can regain the normal App Drawer functionality on your Huawei P20 Pro.
NOTE: This post is part of our series of Huawei P20 Pro tips and tricks. For more such tips, check out our P20 Pro Features section.
How to Enable App Drawer on Huawei P20 Pro
Initially, users who switch from non-Huawei devices, find no app drawer very unusual. Fortunately, however, you can easily have it enabled with the simple instructions included right ahead.
Step 1 – Open the Settings app. You can do it by locating the shortcut on your home-screen or by simply scrolling down the notification panel and tapping on the Gear icon located at the top-right.
Step 2 – From resulting options, you should now select Display.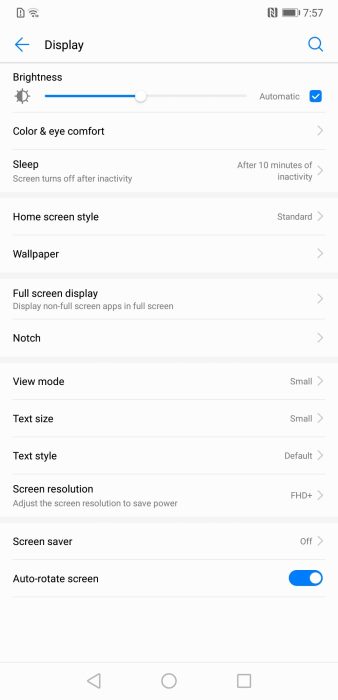 Step 3 – Within the Display section, tap on Home screen style.
Step 4 – As mentioned, by deafult, Standard would be enabled. To have a stand-alone app drawer, just tap on the Drawer option.
That's about all! We do hope this helped you out and made you discover more about the P20 Pro.